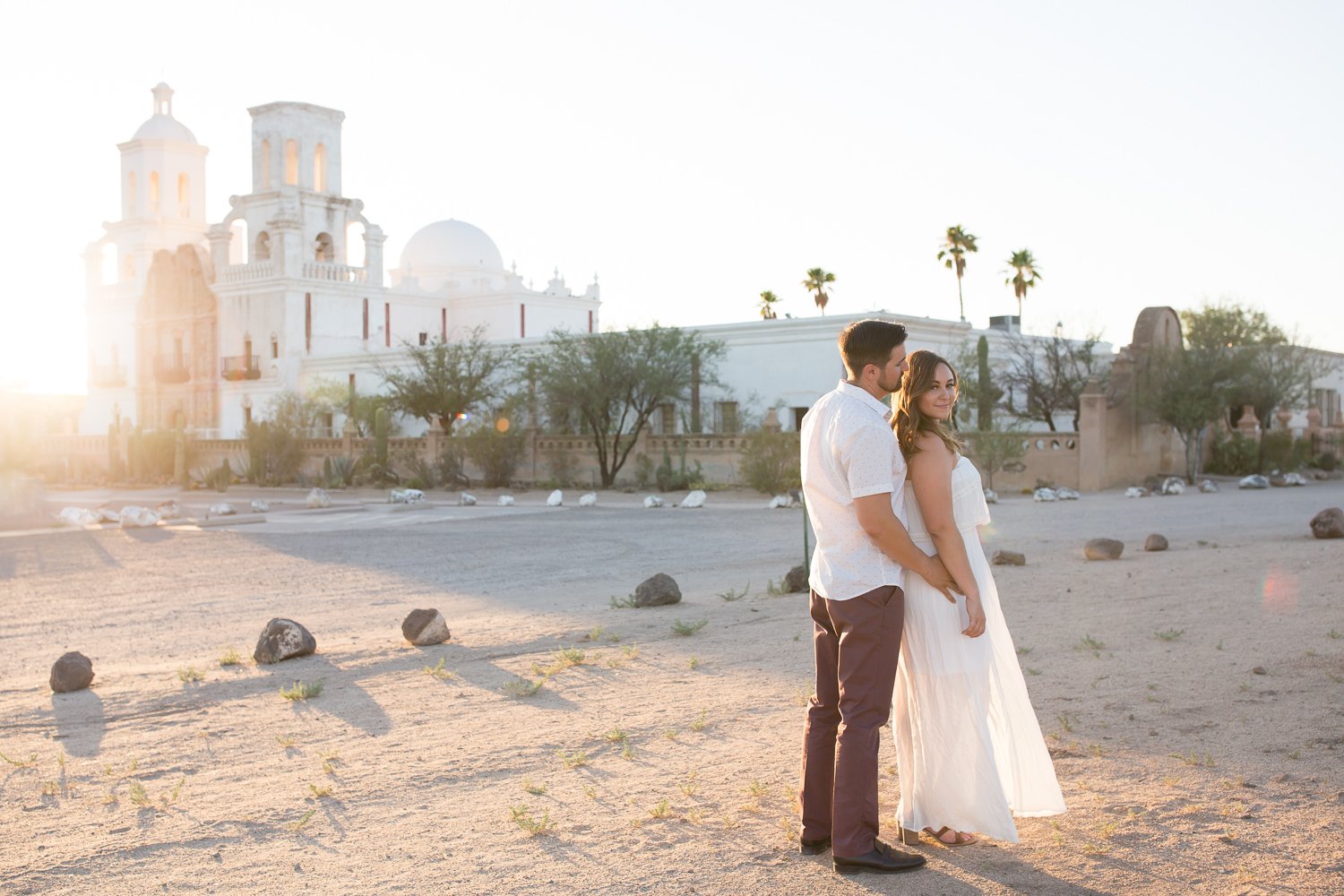 26 Apr

Tucson Engagement Sessions: 5 Tips to Get the Best Photos

Everyone wants the best photos from their engagement session. Today, we are sharing our 5 tips on how to achieve the best photos from your session.

The engagement session has never been in more demand by couples than it is today. With social media a frenzy and great photos popping up everywhere we turn, engaged couples want this experience. We are seeing about 8 out of 10 couples requesting a session. So, what makes a session go from good to great?  We are discussing that today and using one stand out session from the historic San Xavier Mission in Tucson, Arizona.

Victoria and Ryan are a beautiful couple inside and out. They really wanted their session at the mission and we could not wait to get started. We knew we needed to start about 1 hour before sunset to get some great light in this area. We also knew a variety of lenses, like any shoot, would be necessary to capture the fantastic architecture at this holy spot. But enough about the photography logistics- we want to tell you what our couple did to make this a stand out session.
Outfit Choices- choose hues that go great with your skin tones. Stay away from stripes, logos, and neon colors.
Choose natural looks over heavy makeup and hair- you want to look like YOU- the beautiful you everyone knows. It is the perfect time to have your hair and makeup trial for your wedding day. The best makeup artists enhance your natural beauty.
Make the session day a "date night"- you get to spend some one on one time with the one you love so embrace this time. No phones, tv, or distractions. Plan a nice dinner afterwards and really enjoy every second.
Be YOU- yes pinterest is a wonderful place- but don't try to imitate anyone else's photos- trust us- we will create your own pin worthy board.
Last but not least-location, location, location- explore an area and check with the pros before making it your spot. Discuss your vision and "look" you are going for with us first and we can suggest some places in the area that are tried and true.
We hope your engagement session photos are the best! It will be a memorable time in your life together and the start of many adventures! Much Love, Steven & Alisha Palm
For more information on the San Xavier Mission, please visit https://sanxaviermission.org
Planning your wedding? Make sure to check out another blog on our top reasons to hire two photographers for your day https://stevenpalmphoto.com/2016/12/30/top-10-reasons-a-2nd-photographer-on-your-wedding-day-is-a-must/